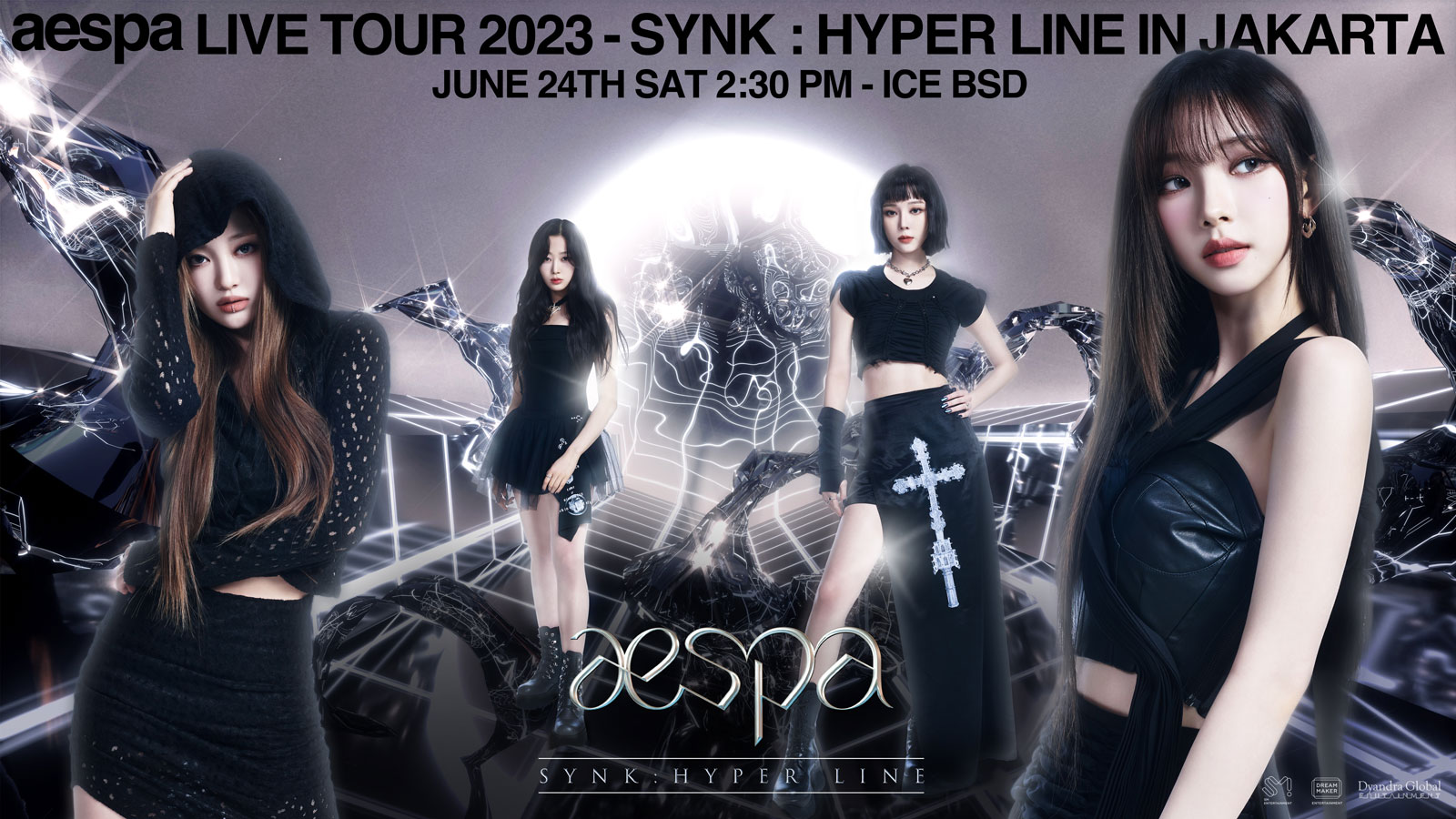 aespa LIVE TOUR 2023 'SYNK : HYPER LINE' in JAKARTA
GENERAL REGULATIONS
By purchasing a ticket for aespa LIVE TOUR 2023 'SYNK : HYPER LINE' in JAKARTA, Ticket Buyer has agreed to all applicable Terms and Conditions. All forms of violation of the terms and conditions will be dealt with strictly.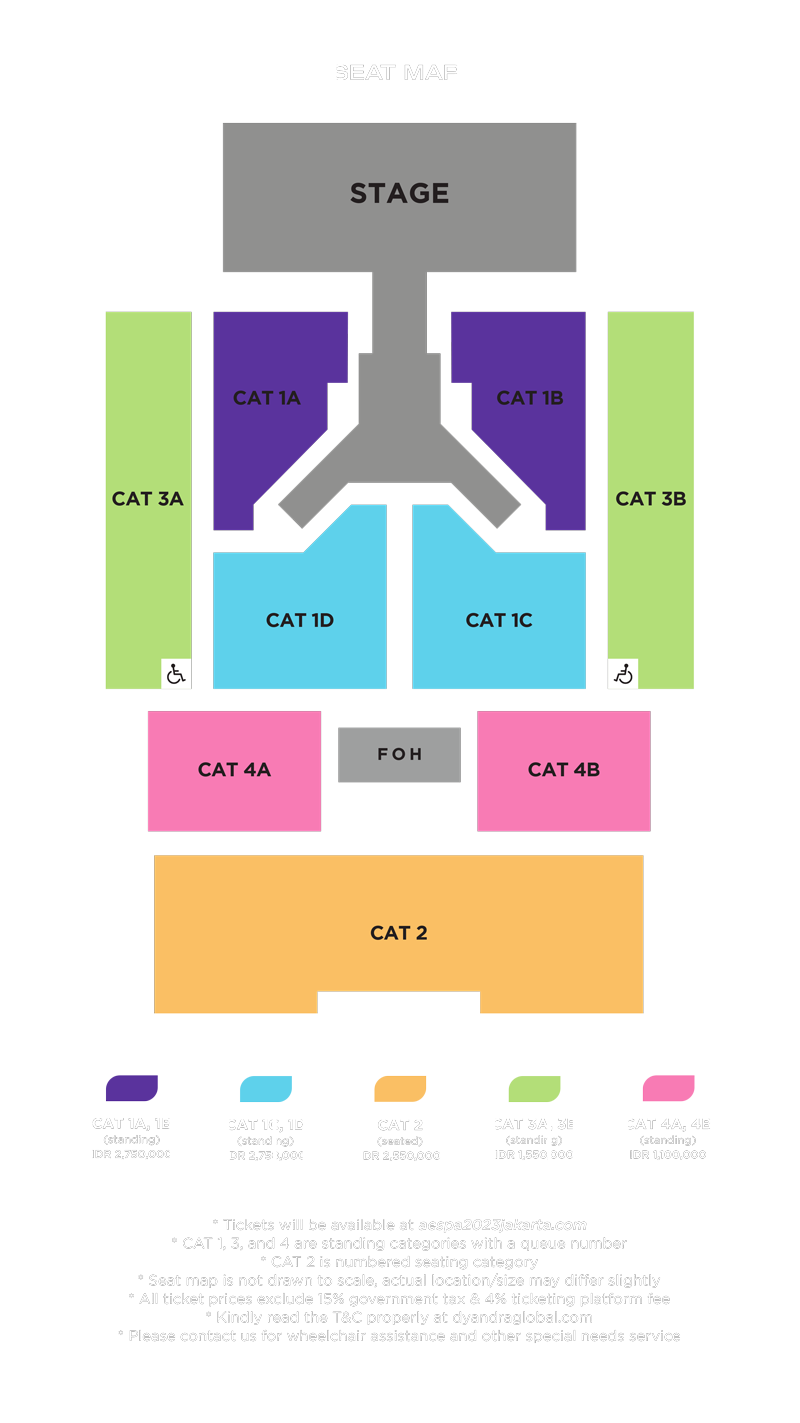 TICKETING
Available categories and where to buy, are as follow;
aespa2023jakarta.com
CAT 1 A – B – C – D (standing)
CAT 2 (seated)
CAT 3 A – B (standing)
CAT 4 A – B (standing)
All Prices exclude 15% government tax and a ticketing platform fee of 4%
Purchased tickets cannot be exchanged, refunded, or canceled.
1 (one) account can only purchase a maximum of 4 (four) tickets per transaction.
Tickets are only valid if they are purchased following the procedure that has been determined by the online purchase through electronic/online transactions on the Promoter's official website or ticket box appointed by the Promoter (authorized ticket box). Otherwise, the Event's attendee will not be able to verify if the e-voucher is an authorized or unauthorized copy.
Each Ticket holder of Category 1, 3, da 4(festival/standing) will receive a queue number to enter the concert area.
Each Ticket holder of Category 2 (tribune/seated) will receive a seat number
A queue number and seat number will be assigned to Event Attendeess automatically based on the time of purchase and the best available number.
The queue number and seat number will be sent to Event Attende via registered email at the time of purchase within 7 (seven) days after the e-voucher is received.
Each e-voucher has a unique barcode and is only valid for one person. E-voucher can only be used once. E-voucher duplication for multiple entries to the event are prohibited.
Your ticket purchase constitutes a personal license to attend the aespa LIVE TOUR 2023 'SYNK : HYPER LINE' in JAKARTA concert. By purchasing a ticket, you agree to your personal data collection and usage.
E-vouchers must be redeemed with a wristband during the redemption period.
wristband redemption information as follow:
The time and place for wristbands exchange will be informed via social media and Dyandra Global's website
It is recommended to exchange the e-voucher beforehand to avoid the queue on the day of the concert.
Tickets or e-vouchers that have been purchased are not to be resold at a higher price than the official price determined by the Promoter. If there is an indication of a violation, the Promoter has the right to take legal action and or cancel the ticket.
Wristband/ticket exchange requirements:
Original National Identification Card/ Driver's License/ Passport/ Student Card that is still valid (name on the ID must be the same as the one written on the e-voucher)
If the exchange is represented:
Letter of Attorney signed on a IDR 10.000 (Materai) stamp by the person that you are representing.
A copy of the National Identification Card whose name is written on the e-voucher.
No replacement wristband will be issued under any circumstances if lost & damaged for any other reason. Promoters are not responsible for any lost, stolen, or damaged wristband(s).
Tickets purchased at aespa2023jakarta.com cannot be used for commercial purposes (giveaways, contests, or sweepstakes). If the tickets used are not in accordance with existing regulations, they can be canceled with no refunds being issued. Ticket holders will be refused entry into the event area, without exception.
The Organizer has the right to change or add other terms in the Terms & Conditions without prior notification.
HEALTH PROTOCOL TERMS & CONDITIONS
The Promoter applies the TERMS & CONDITIONS for HEALTH PROTOCOL in accordance with the provisions imposed by the Government of the Republic of Indonesia and can be changed anytime.
All Event Attendeess are expected to check in through the PeduliLindungi app.
All Event Attendeess are expected to have received complete vaccinations as recommended by the Government, stated on Surat Edaran Gugus Tugas Penanganan Covid-19 20/2023 (SE).
Visitors are expected to use masks at the event venue and throughout the event. Please only use medical masks (not material masks and/or cloth masks).
Regulations for international Event Attendeess are as follows:
You are required to bring a printed Complete Vaccine Certificate and/or Vaccine Card showing that you have received a Vaccines Booster.
You are required to bring an official Identity Card with the name as stated on the Vaccine Certificate or related certificate. Please have all the documents translated into English.
For more info, please check https://dinkes.jakarta.go.id/berita/read/international-travellers-use-pedulilindungi-when-arriving-in-indonesia
AGE RESTRICTIONS
National Identification Card or Kartu Tanda Penduduk (KTP) for Indonesian citizens, Driving License, Passport, Student Card, and Basic Resident Registration Card are valid forms of ID (with photo).
Children under the age of 14 must be accompanied by a parent or legal guardian and no children under the age of 10 are permitted in the festival standing zone.
Children under 3 years old will not be admitted into the performance venue.
SPECIAL NEEDS SERVICE
Only CAT 3A tickets can be accessed by Event Attendeess with special needs using wheelchairs (limited space).
Event Attendeess who have special needs using wheelchairs can contact the organizers via communication@dyandraglobal.com by attaching a medical statement letter from a hospital and required to be given to Helpdesk on concert day for further assistance.
Pregnant women are required to bring a doctor's recommendation letter and a stamped permit from their husbands and are not allowed to be in the festival area
Attendees with serious medical conditions such as heart problems, low blood pressure and others are not allowed to attend events/concerts. For further information, please contact communication@dyandraglobal.com
Attendees accept they have a duty to take reasonable steps to ensure their own safety, taking into account any personal medical conditions
NO RE-ENTRY
Please keep in mind that re-entry is not allowed to the concert and event area, regardless of your ticket category. Once you enter the venue, you will not be able to leave and enter again.

The organizer/Promoter reserves the right to take action to prohibit entry to the venue for an actual ticket/wristband with a barcode that has been used previously by others.
           CONCERT LINES GUIDELINES
Waiting in line overnight is prohibited.
Please be friendly and respectful to others in the line.
GENERAL POLICIES
Organizer/Promoter reserves the right to process and litigate in accordance with Indonesia regulations through civil criminal proceedings against people who make illegal ticket purchases, including but not limited to counterfeiting or copying a valid ticket or get a ticket in a way that does not match those specified by the organizer/Promoter as in item (a) of this provision.
Organizer/Promoter is not responsible for any negligence that resulted in E-voucher/ wristband being misplaced or lost (or in the mastery of others' hands) and is used to enter the venue by others.
Purchaser hereby agrees to release the organizer/Promoter from legal claims through the courts or any means permitted by law in the event of cancellation of a concert that was made unilaterally by the artist or the government or other causes beyond the capacity and will of the organizer.
If the event is canceled, the tickets will be refunded in accordance with the provisions of the Promoter. The cost of the convenience fee (charged to the buyer with a credit card) will not be refunded.
The event organizer has the right to prohibit visitors from entering the event location if visitors do not have a valid ticket.
Organizer is entitled to remove the audience from the venue event if it is deemed necessary for safety, for the convenience of other audiences, and to ensure the integrity of the event.
Event Attendeess must wear wristbands at all times at the venue. Those who lose their wristband for any reason will not be allowed entry into the event.
Event Attendeess within the event (inside) that are not in possession of a valid wristband, will be removed from the concert area with no exception.
In certain circumstances, some areas within the venue may become restricted.
The organizers, Promoters, and artists are not liable for any compensation and/or cancellation charges for travel expenses resulting from the event being canceled or postponed.
Event Attendeess who are behaving in a disorderly, offensive or inappropriate manner and guests who refuse to obey instructions/warnings from event staff will be removed from the Event immediately. No refunds will be given.
Any attempt to enter the event without a valid ticket or valid credentials will result in immediate removal from the event grounds. In certain cases, we will contact the police and press charges against the violators.
The event operators, organizers, Promoters, and artists cannot be held responsible for lost, stolen or damaged possessions or accidents resulting in injury occurring anywhere in the venue during the event regardless of fault or reason.
The Organizer/Promoter will refuse entry to guests who are severely intoxicated and clearly affected by drugs. Anyone found carrying these items will be reported to the police immediately. No refunds will be given. Guests found to possess illegal substances, weapons and/or other prohibited items will also be refused entry.
The organizer will not use or disclose guests' personal information collected at the time of ticket purchase without consent.
Event Attendeess who are removed or exit from the venue for any reasons will be banned from entering the event.
For security reasons, the Organizer/Promoter has the right to postpone, cancel or stop the event; temporarily detain Event Attendees at the location until the event ends; evacuate some or all Event Attendeess from the location and also refuse to give access to Event Attendeess to enter the event location even though they have a valid entry ticket, without any compensation to the Event Attendees.
The Organizer/Promoter disclaims all responsibility for losses or damages to vehicles parked on or near the Event.
The Organizer or Promoter is not responsible for losses or damage to any vehicle towed from the event site.
The organizer reserves the right to change the layout and the seating of the audience in the event location at any time.
The event is intended to be a friendly and enjoyable event.
WHAT NOT TO BRING
NO outside food and drinks are allowed in the venue

.
NO professional and semi-professional/SLR/DSLR camera. Recording and transmission at concerts is generally prohibited. Cameras with removable lenses, video cameras, recording devices, and action-cam are prohibited.

No flash photography.
NO selling inside the location of the event.
NO unauthorized solicitations, handbills, sampling or giveaways without prior approval from the Promoter/organizer.
NO paint of any kind including paint markers and spray paint
NO illegal drugs or substances or drug paraphernalia
NO official medicines without a doctor's prescription, except over-the-counter medicines. Carrying products that are harmful to human health is prohibited.
NO flags or totems with metal or wood pieces.
NO unsealed sanitary products
NO carrying a corkscrew or bottle opener.
NO backpack, travel luggage, and others bag that may exceed 20 cm x 30 cm. There will be no lockers at the venue.
NO glass bottles are allowed.
NO projectiles or explosives materials.
NO knives or sharp objects.
NO flammable products or aerosol cans.
NO water guns or air guns.
NO drones and/or other similar flying apparatus.
NO smoking, vaping and electronic cigarettes in concert area.
NO item that can be used as a means to disturb the peace, endanger the safety of the crowd and/or inflict damage to people and goods in the sole discretion of Event Staff.
SECURITY ENTRY
Your safety and security are important to us. You understand that you and your property may be subject to a reasonable inspection upon entry to the event. If you refuse to participate in these security measures, we may deny you entry. We also reserve the right to ask you to leave the event if your behavior causes us concern for the safety or security of Event Attendeess. If we deny you entry or require you to leave, you will not receive a refund.
All attendees are subject to being searched prior to entry into the event, including members of the media. By requesting entry into the event, all attendees shall be subject to a thorough airport-style pat-down search, including emptying pockets and bags and having their items examined. An electronic drug detector and K-9 search will be used. The event organizer shall, at all times, reserve the right to either deny any person entry into or to eject any person from the event, who in the sole and absolute discretion of the event organizer is in violation of event rules, which rules may be updated from time to time, with or without notice.
RECORDING RIGHTS
Promoter/Organizer and its affiliations/association reserves the right to film, record, and/or photograph the visitor, participant or wristband holder's image, likeness, action, and/or statement of this event for television, moving picture, webcast and/or other public broadcast in any medium for any purpose. Any visitor, participant, and/or wristband holder of this event hereby fully releases and discharges the Promoter/Organizer (including its employees and subsidiaries) and its affiliations/association from any rights, claims, damages, losses, liabilities, fines, and causes of action whatsoever arising directly or indirectly from the filming, recording and/or photography of this event.
Please don't throw things, especially hard objects on stage because it would harm the artist(s) and enjoy the concert!
Letter of Attorney for Ticket Redemption Template